---
Tournament Dates
8-13 APRIL 2023
Tournament Dates
8-13 APRIL 2023
Tournament Dates
8-13 APRIL 2023
Invitation
---
We would like to invite your team to participate in the Ayia Napa International Youth Soccer Festival in a venue that can only be described as one of the most famous soccer activities in Cyprus and one of the biggest of its kind in the Middle East and Mediterranean countries. I assure you of a real soccer festival, with high standard of football and lots of fun for the young future soccer stars coming from many different countries.
Τhe next Ayia Napa International Youth Soccer Festival will take place from Saturday 8th till Thursday 13th April 2023. 
The whole event is organized and coordinated by Soccerworldcyprus, an official member sports club of the Official Cyprus National Sports Organization. The event is supported every year by the Municipality of Ayia Napa tourist resort, the Deputy Ministry of Tourism and is officially recognized and approved by the official Cyprus Football Association.
Announcements
---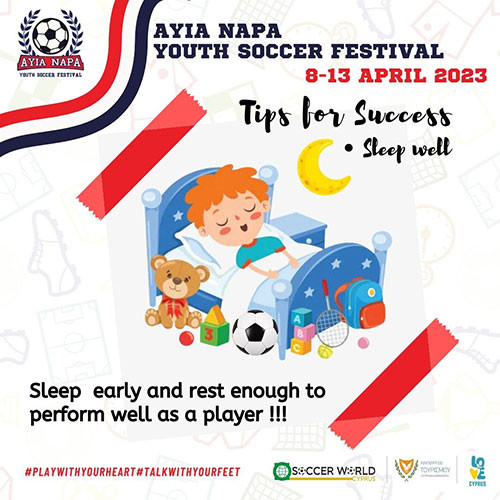 Simple things and minor details can make the big difference!
Today's advise to our young players:
Sleep early and rest enough to perform well as a player.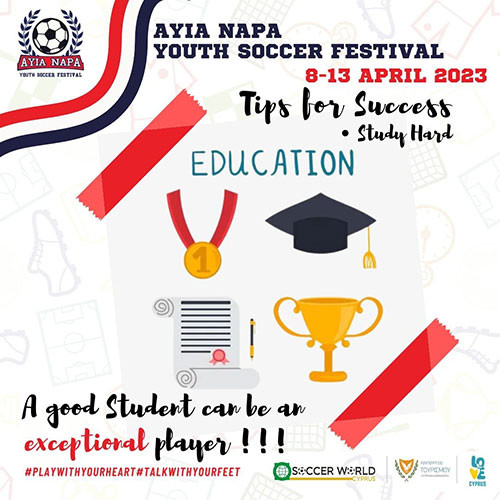 Study hard like you train hard in football.
A good student can become an exceptional player.
Participating teams
---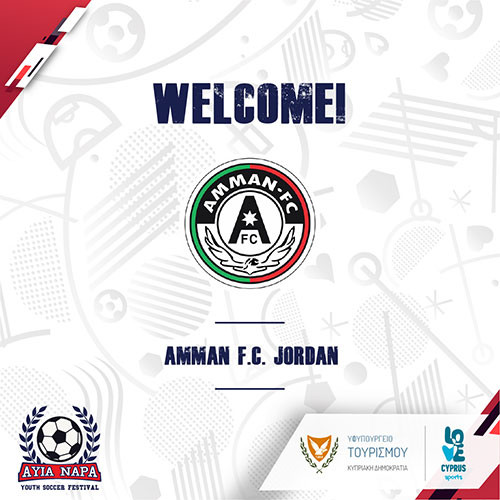 From Jordan the participation that complements our teams. Welcome Amman F.C. Jordan.
All together again... soon!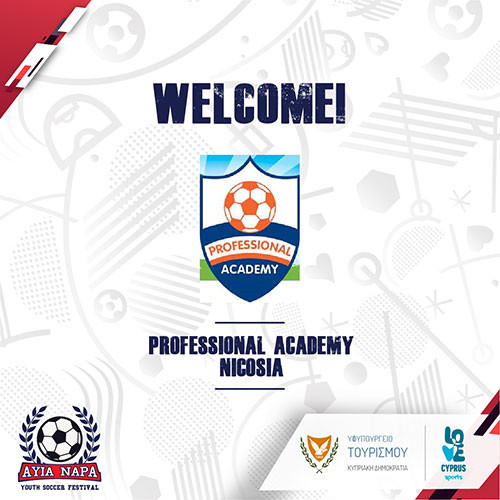 Welcome Professional Academy Nicosia to our large family.
Ayia Napa Youth Soccer Festival is ready to welcome you back!
Supporters
---
Sponsors
---
Media Sponsors
---
Internet Partner
---
Charity Campaign Partner
---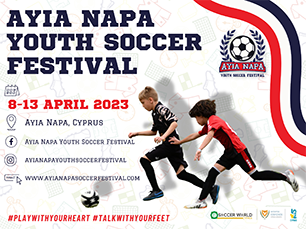 Leaderbooards
---
| # | Team | Pts |
| --- | --- | --- |
| 1 | ΑΚΡΙΤΑΣ ΧΛΩΡΑΚΑΣ / ΚΕΡΑΥΝΟΣ | 7 |
| 2 | EFP/AFF | 6 |
| 3 | MOUNDIALITO | 4 |
| 4 | ΣΧΟΛΗ Μ ΧΡΙΣΤΟΔΟΥΛΟΥ | 0 |
| # | Team | Pts |
| --- | --- | --- |
| 1 | | 9 |
| 1 | | 9 |
| 1 | | 9 |
| 1 | | 9 |
Gallery
---